About
Enonic Market is the marketplace for sharing apps, libraries and starter kits for Enonic XP.
Enonic XP combines four traditional systems in one: Application Server, Search engine, NoSQL storage and Web CMS. It is a highly scalable and modern platform for building enterprise class web applications and sites.
Apps, libraries and starter kits?
Enonic Market features three types of content; applications, libraries and starter kits.
An application is a ready-to-use app that can be added to your Enonic XP installation. As an example, try the Superhero Blog app which is a fully featured blogging application.
Technically, libraries are very similar to Applications, but the main difference is that a library cannot be installed and started by itself. A library is used as a part of an application, in order to speed up development and re-use of functionality and code. The reCAPTCHA lib is a good example, this lets you add the popular reCAPTCHA service to your Enonic XP app.
Starters is a way of kick starting the Enonic XP application development process. They provide a pre-defined project structure, build scripts, library references, sample code and sometimes even data. The Vanilla Starter lets you start off with the most basic structure, while the Webpack Starter lets you use Webpack as a module bundler that supports Typescript (both client- and server-side), LESS and SASS.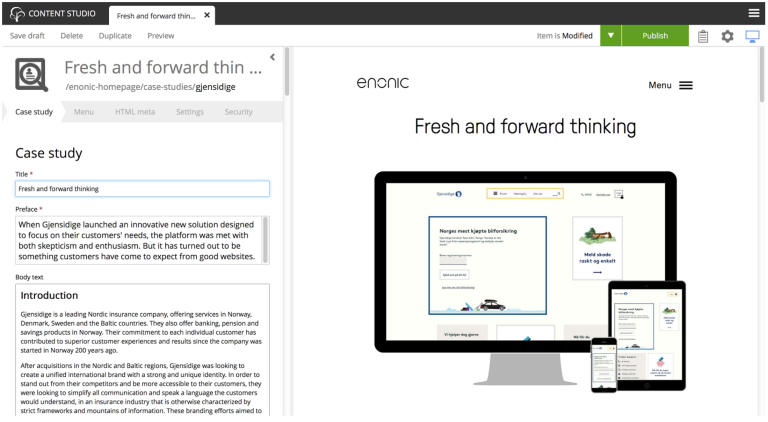 Enonic XP highlights
World class user interface with powerful editorial capabilities
Out-of-the-box 3rd party integrations
Fast and scalable - boots in just 5 seconds
Open Source
Enonic Market for apps, libraries and starter kits
Visit https://enonic.com for more on Enonic XP